Sensory Play With Babies
15th March 2018
If you have a young baby in nursery or if you have been looking at nurseries recently, you may have heard the term "sensory play" quite a lot! In this blog we are going to focus on what sensory play is, how it supports babies development and what activities you can do at home.
So lets start at the beginning…
How do babies learn?
From birth through to early childhood, children use their senses to explore and try to make sense of the world around them. They do this by touching, tasting, smelling, seeing, moving and hearing. Children and even adults learn best by engaging their senses. A lot of the things we remember from when we were younger are usually associated with a sense. E.g. The smell of grandma baking an apple pie or a song you knew all the words to as a child and still remember vividly today! Now what happens when you smell an apple pie baking or you hear that song? You get flash backs to those happy memories you had as a child.
Providing opportunities for children to actively use their senses as they explore their world through 'sensory play' is crucial to brain development. It helps to build nerve connections in the brain's pathways. This leads to a child's ability to complete more complex learning tasks and supports cognitive growth, language development, gross motor skills, social interaction and problem solving skills.
What is sensory play?
Sensory play includes any activity that stimulates your babies senses: touch, smell, taste, movement, balance, sight and hearing.
Sensory activities facilitate exploration and naturally encourage children to use scientific processes while they play, create, investigate and explore. The sensory activities allow children to refine their thresholds for different sensory information. This helps their brain to create stronger connections to process and respond to sensory information. For example, initially a child may find it difficult to play appropriately with a peer when there are other things going on in the environment with conflicting noise. However, through sensory play exploring sounds and tasks a child learns to adapt to being able to block out the noise which is not important. They can then focus on the play which is occurring with their peer.
When your child is allowed to use multiple senses to accomplish a task, they will learn more from the experience and retain more information. So where it might be a little bit frustrating that your baby puts everything in sight in their mouth or bangs their toys continuously on every surface, this is vital for engaging their senses and they are learning more and more through doing this!
How does sensory play support babies development?
Research shows that sensory play builds nerve connections in the brain's pathways, which lead to the child's ability to complete more complex learning tasks.
Sensory play supports language development, cognitive growth, fine and gross motor skills, problem solving skills, and social interaction.
This type of play aids in developing and enhancing memory
Sensory play is great for calming an anxious or frustrated child
This helps children learn sensory attributes (hot, cold, sticky, dry)
Sensory Play Activities At Home
Sensory Bottles
Quick and easy to make using old water bottles, small colourful objects, toys and glitter. The possibilities are endless with these.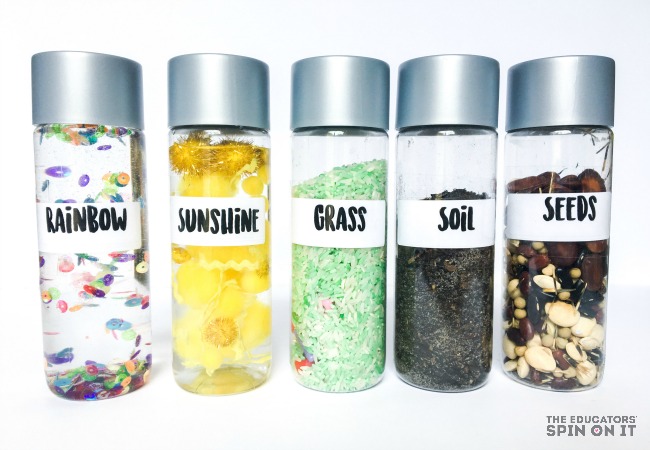 Food Exploration Play
This can be done with a variety of different food materials from spaghetti to pasta, cornflour to cous cous or even jelly! If you want to make less mess you can by a big plastic box and sit your baby inside like the picture below however more mess is more fun!
We especially enjoy jelly play as it affects so many senses! You can get it in lots of different colours, smells and flavours and it has an amazing texture!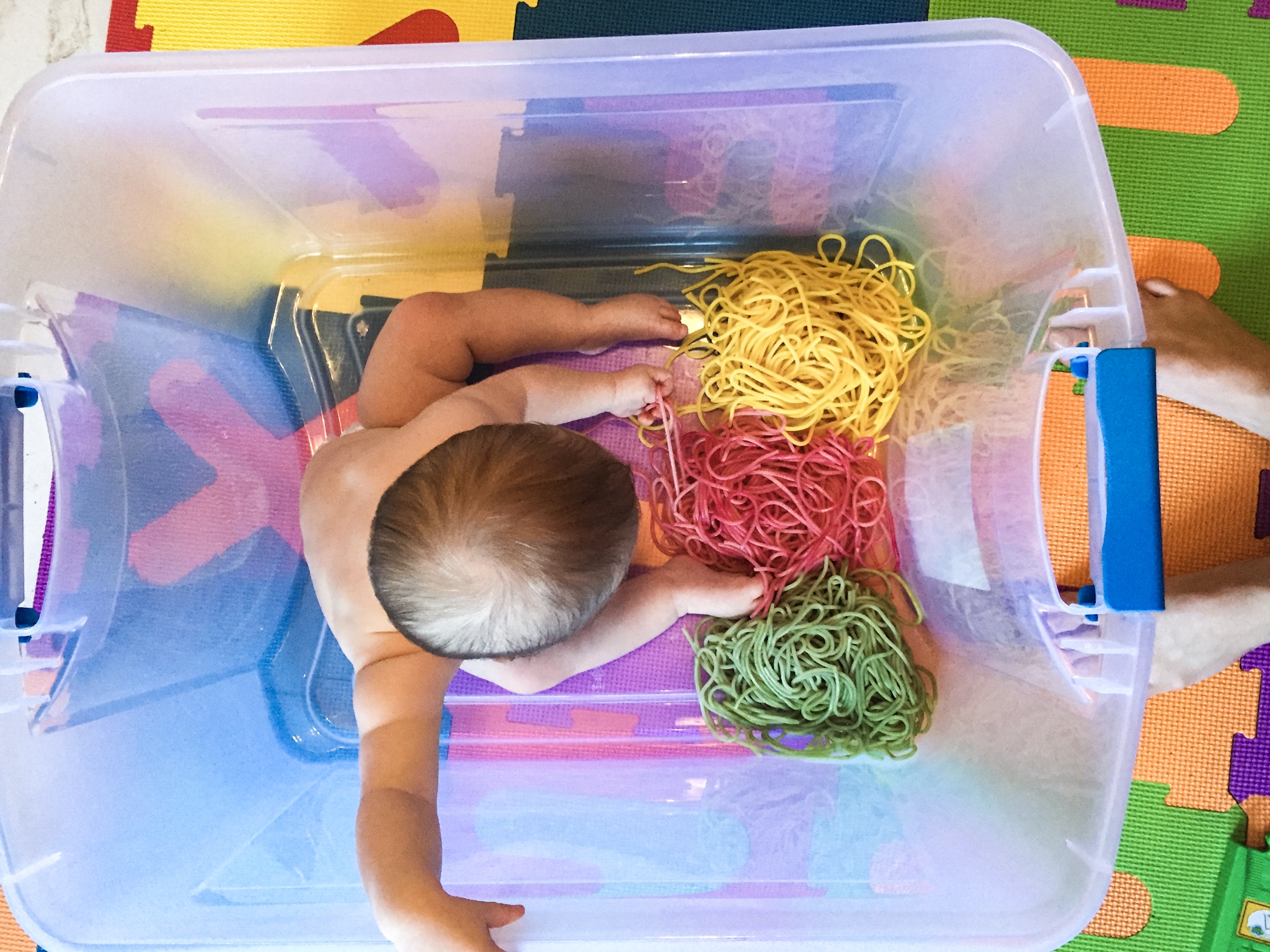 Sensory Baskets
All of our Little Buds rooms in our nurseries have sensory baskets tailored to each child's needs. They are quick and easy to make and can be filled with different objects from around the home such as metal sieves or key chains, wooden spoons or loofahs. All the items will provide a different sensory experience allowing young children to engage all their sensory experiences.
Click here to see all the things you can add to yours!